Five of Elm Mount's players competed in this year's Irish Junior Championships which were held in Blanchardstown recently. Philip Grehan and Gavin Melaugh played in the under 12s event, while Shane Melaugh, Luke Keenan and Alex Goss played in the under 14 section.
All of the players aquitted themselves well, with pride of place going to Gavin who finished as runner up in the under 12s Section on a score of 5/6. Photos of some the Elm Mount players taken at the championships are set out below.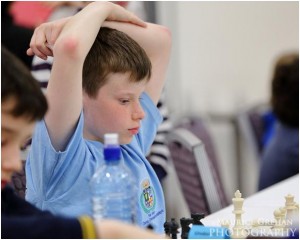 Philip Grehan
.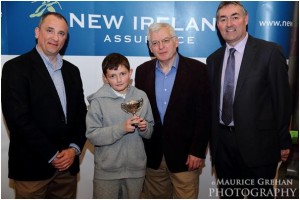 Gavin receiving his prize for finishing as runner up in the under 12s Section of the Irish Junior championships with from left (Michael Gordon, Director of Marketing New Ireland Assurance, Joe Higgins TD and Pat Fitzsimons, Chairperson of the Irish Chess Union.